Company Description
Todhunter Brothers Glass Inc. is an experienced glass product and service provider for Whatcom and Skagit Counties. We provide efficient and high quality services including installation, repair remodeling and maintenance for doors, windows as well as deck and patios. Contact us today and speak to our experts for your free estimate.
Photos & Videos
1 photos
Print Ads
3 ads
License
TODHUBG073D4
Reviews and Recommendations
(9)
Please help us to connect users with the best local businesses by reviewing Todhunter Glass Inc
Todhunter Glass Inc 1 has been so far so good. They ordered the glass, it will be here in a couple weeks. We'll see how the rest of the interaction goes...
Ma'am from Todhunter Glass Inc 1, that came out was very nice. I did receive the bid but for a 24 inch by 40 inch window replacement for $400.00, so it's out of the question for me that just seems like way too much. So I won't be having them back, but I did appreciate the gentleman who came out.
Everything's fine at Todhunter Glass Inc 1. Enjoyed the service.
Todhunter Glass Inc is very good.
Todhunter Glass Inc responded immediately to my call for a broken glass door. They came over within an hour and they boarded it up for me and, within 5 days, they were back with the glass and the installation was took about, maybe 45 minutes, their service was excellent. I don't know anything about the price, because my corporate office pays the price, but the guy was wonderful. I couldn't be happier with it, thank you.
I was impressed with the help I get in Todhunter Glass Inc 1. Very professional, well mannered.
Todhunter Glass Inc 1 are great! thank you.
Hi! I just want to tell you that Todhunter Glass Inc is a wonderful company! They're really take time to treat you like a human being and not just a customer. They've done everything they could to help us in many ways including getting samples for us, so I want to thank you for calling about the their company, thank you, bye.
Everything was just fine. Todhunter Glass Inc is very helpful, thank you.
Frequently asked questions about Todhunter Glass Inc
How do customers rate Todhunter Glass Inc?
Todhunter Glass Inc has 4.5 stars based on 9 reviews.
What days are Todhunter Glass Inc open?
Todhunter Glass Inc is open Monday, Tuesday, Wednesday, Thursday, Friday, Saturday.
Is Todhunter Glass Inc licensed?
Yes, Todhunter Glass Inc has license: TODHUBG073D4.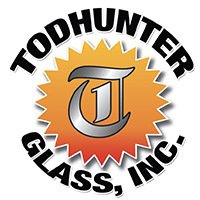 Todhunter Glass Inc
Address:

423 Avon Ave Burlington, WA

Phone:

(360) 255-5988

Email:

lee.todhunterglass@gmail.com
Monday

08:00AM - 05:00PM

Tuesday

08:00AM - 05:00PM

Wednesday

08:00AM - 05:00PM

Thursday

08:00AM - 05:00PM

Friday

08:00AM - 05:00PM

Saturday

09:00AM - 04:00PM

Sun

Closed