Company Description
Jimenez Auto Repair is a reputable and dependable auto repair business that caters to both English and Spanish-speaking customers. With a focus on customer satisfaction, our skilled and experienced team provides a wide range of automotive services including tune-ups, brake repairs, and diagnostics. We can effectively diagnose and fix any issues your vehicle may be experiencing, ensuring optimal performance and safety on the road. Jimenez Auto Repair can be reached through email at JimenezAutoRepair@frontier.com. With the recent expansion, we now have two convenient locations to serve our valued customers. Our first location is at 637 E Victoria Ave, Burl... and our second location can be found at 781 Chrysler Dr. For any inquiries or appointments, please call 360 755-0304 (for the Victoria Ave location) or 757-0321 (for the Chrysler Dr location). Trust Jimenez Auto Repair for all your automotive needs!
Photos & Videos
1 photos
Print Ads
1 ads
Reviews and Recommendations
(1)
Powered by Skagit Directory
Please help us to connect users with the best local businesses by reviewing Jimenez Auto Repair
I just found out today that my car needs a new catalytic converter. The dealership service department I went to quoted me a high price, and I'm on a tight budget can anyone make a recommendation?
Frequently asked questions about Jimenez Auto Repair
What days are Jimenez Auto Repair open?
Jimenez Auto Repair is open Monday, Tuesday, Wednesday, Thursday, Friday, Saturday.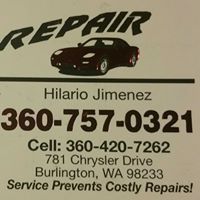 Jimenez Auto Repair
Address:

781 Chrysler Dr Burlington, WA

Phone:

(360) 757-0321
Other Locations
Address:
637 E Victoria Ave Burlington, WA
Phone:
(360) 755-0304
Monday

08:30AM - 06:30PM

Tuesday

08:30AM - 06:30PM

Wednesday

08:30AM - 06:30PM

Thursday

08:30AM - 06:30PM

Friday

08:30AM - 06:30PM

Saturday

09:00AM - 05:30PM

Sun

Closed