Company Description
I've known for months I needed to get my Facebook page for Collections Boutique up and running. Thanks to my multi-talented, tech-savy granddaughter, Loren Davis -- it's finally happening. Thank you, Loren.

*****
I am a woman that likes to be busy. When I heard Collections Boutique, in beautiful Coupeville, was for sale (a favorite shopping destination of mine) I thought "Hmmmmmmm . . . Maybe I should look into buying a Women's Boutique!" After much due-diligence, and the support of my family and friends (especially my female family and friends!) I became the owner of Collections Boutique -- a small Women's Boutique with a long, successful history in Coupeville. That was on August 1st of last year. I hit the ground running.

August: Peak tourist season in Coupeville. Wholesale buying trips that needed to happen. The Boutique is open 7 days a week. Did I mention I like to be busy? I got my wish!

Collections Boutique is small -- 300 sq ft. The perfect, manageable size. I carry a variety of clothing lines -- Tribal, Habitat, Pure, Cutloose, Lysse, Lissett, Nomadic Traders, Picadilly, Adam Jacobs - and more. I also sell jewelry, accessories and baby gifts.

I'm working hard and loving it! I love my customers, the tourists, the location, the buying, the CHALLENGE. . . !!! My girlfriends say "Good for you! A Boutique!! That would be so much FUN!!" My male friends say "What do you want to do that for??"

I do it because I love it.

Coupeville. A special town to spend an afternoon. A place to have lunch, walk on the Coupeville Wharf and see the local sights. And while you're there, stop and say "hi!"
Photos & Videos
3 photos
Reviews and Recommendations
Powered by Skagit Directory
Please help us to connect users with the best local businesses by reviewing Collections Boutique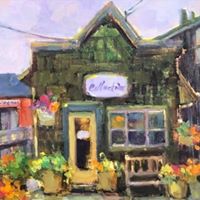 Collections Boutique
Address:

24 Front St NW Coupeville, WA

Phone:

(360) 678-2100
Monday

11:00AM - 05:00PM

Tuesday

11:00AM - 05:00PM

Wednesday

11:00AM - 05:00PM

Thursday

11:00AM - 05:00PM

Friday

11:00AM - 05:00PM

Saturday

11:00AM - 05:00PM

Sunday

11:00AM - 05:00PM